We are still in the early phases of rebuilding.  As our family and friends start to recover from the devastating effects of the Thomas Fire, here is how we can respond to fellow workers in need:
Donate to the THOMAS Fire Worker Relief Fund.
Admin costs are $0 and 100% of every penny collected will go directly to assist those union members who've lost homes to the Thomas Fire.
The contributions are tax deductible.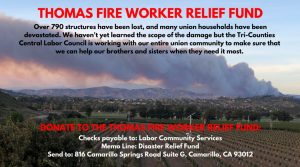 (Click on image to enlarge)